After composing my blog post about all the projects I've got on my mind about the house I came up with another one! Our sunroom. One of the things that I really loved about our house when we bought it was that it has a fully enclosed sunroom that connects to the family room. The deck is connected to it and it overlooks our yard. It is a nice room. Sadly the previous owners did nothing with it, and I have say that I am ashamed we've done very little with it as well. We did take down the sliding plastic shades from the windows and painted the walls, but there is still alot left to be desired.
The really big eyesore? Carpet. Ugh.
The sunroom is host to hunter green carpet. Not only is the room fully carpeted it has (and this is gross) big
pee
stains on it from the previous owners dogs. The dogs also damaged the carpet under the door. So yeah, it looks pretty good. Our plan has been to replace the flooring for a while now. I have been very tempted for the last several years to just rip up the carpet and paint the floor until we did something with it. My husband disagrees with this idea, strongly. So alas the carpet has stayed. I am hopeful that soon we will have new floors (probably a wood laminate or tile of some sort). So stay tuned for a room makeover soon (hopefully - hint, hint babe!)
I'm also considering hanging some soft long white curtain panels in the room. We'll see though.
In the meantime, while I'm dreaming of a new sun room, here is some eye candy to start you day dreaming of your own sun room (or of summer, or something equally as relaxng).
LOVE, L-O-V-E the
Young House Love
sunroom (and their whole house)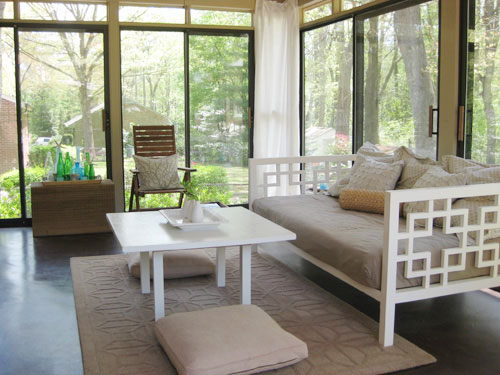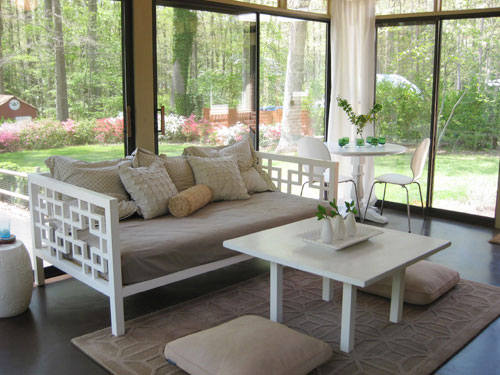 The next set of photos are from Steve & Brooke Gianetti's home. Their house is GORGEOUS. They enclosed the back porch to make this sun room. To see more of their house and to see what Brooke is up to check out her
blog
.
After Brooke needed more space for a home office they decided to change the above side of the sun room, which was underused, into an office space (below). Doesn't it look like a relaxing place to work from home?
I really love the colors and texture in the room below by
Lola B's
.
I hope you're looking forward to a relaxing weekend!